Google just recently unveiled it's New Android Oreo platform or shall we say a new breed of Android altogether again! Google calls this new variant of Android as Android Go edition, and it is launched as a part of Android Oreo 8.1, so the version is similar to the full-fledged Oreo 8.1. So, what is Android Oreo Go edition anyway, you may ask? Let's hop in straight to the point; the Go edition of Android has been created to run on devices that have entry-level or budget grade hardware under their hood. It is specially designed for developing countries and where every/essential resource is scarcely used or either not quite affordable.
Android Go edition is a lite-weight OS, featuring the similar capabilities of its fully-loaded variant, stripping down a bit on some features, but in return doesn't bog down the experience on your budget smartphone, and includes highly optimized mainframe software framework. With countries like India, Brazil, Malaysia, Indonesia and much more from the Asian sub-continent has seen tremendous growth in smartphones usage and shipment.
So, this provides Google a perfect opportunity to dive into, this entry-level smartphone segment, where most of these devices sold are usually between the range of $80 to $100 and they provide a terrible Android experience, and that's where the Android Go edition comes in as a saving grace. The American Search giant earlier did something similar to it's Android One edition efforts, but that project failed and didn't achieve what it suppose to by a huge mile.
However, the Android One now lives to serve the masses, who buy devices in the slightly higher budget to the upper mid-range segment; it has now become more like a replacement for the legendary Nexus devices. Let's move further, and have a glance at what are the notable features key-components as well as the features of Android Go edition, that you should know.
Three Key-factors of Android Oreo [Go edition]
The Operating System- With all the built-in security features along with highly enhanced memory management ensures a stable Android experience.
The Google Apps- Small in size and allows you to store more content that you like, without sacrificing any apps
The Google Play Store- A highly tailor-made version of Google Play Store, that has all the essentials but also shows you the Go version of Google as well as third-party apps.
Features of Android Go edition (Android Oreo Go edition 8.1)
‣

Optimized for Entry-level budget devices
Optimized for Android smartphones with 512MB to 1GB of RAM
Devices with storage of about 8GB or less than it
Google earlier, also created Android KitKat to run on devices with similar specs as mentioned above but bloatware from OEMs came pre-installed and made it terrible anyway. Now with Android Oreo Go Edition, the search giant is again aiming at the same route.
‣

Apps on diet: Go edition apps will use less space
Up to 50% reduction in apps size
Results in more storage availability
With apps sizes now sliced into almost in half, more storage will be available on your Android device. As Google mentions, users who tend to use budget devices, complaint of growing sizes of apps with each update and there's no other way left for them, to start uninstalling apps to make space for their videos, music, and images. But now with Android Go edition apps, created to take less space on your internal storage.
For instance, Google is already working on Go edition of apps, and they are as follows:
Maps Go
Assistant Go
And also Chrome to name a few
‣

Consumes Less internet data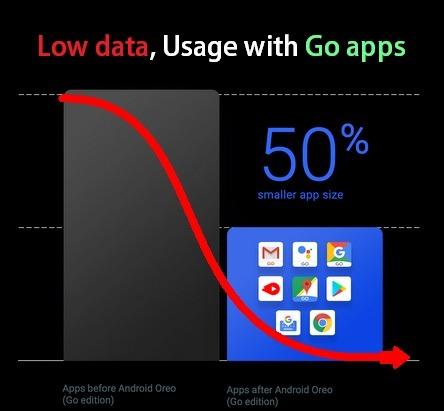 Android devices that will run on the Go Edition of Android will consume less data, and Google estimates that you can save more than 600MB of mobile data yearly. Along, with this, you will also get a built-in data saver that ensures you won't lose those precious MBs, by apps using data freely in the background without your knowledge.
However, you have to be within the Go apps eco-system to save-up on your data. Apps that aren't optimize might consume more data, but those apps will be restricted in the background if they try to use any data.
‣

Highly Tuned version of Google Play Store
Along with the suit of Go apps, the Play Store is the resource where you can get them and it is enhanced to show you the apps that are optimized for Go, or else there's a Go version of an app released by the developers. Google has already published various guidelines to show developers on how to make a highly lite and compact version of their app for so that users on the entry-level devices don't face any slowing down issues.
Here is the link if you want to read more about, the Google's vision for Android developers to make apps for the next billion users. It contains everything from designing user interfaces to saving battery and data of less capable devices.
‣

Android Go Edition Smartphones
Google is working with many partners to launch various Android Go devices, which will be budget friendly and will have all the necessary specs and features. Moreover, according to recent news, Nokia's is planning for a device and many Indian OEMs such as Micromax, Lava, Intex, and Karbonn will manufacturer phones that will cost $50 to as low as $30, the device is known as Nokia 1. And similarly, we will see many OEMs jump into this effort by Google and spread the Android Go devices to the next billion buyers.
You can expect 512MB to 1GB RAM, use of MediaTek SoCs, as well as Lower tier Qualcomm Chips, also being used by premium OEMs. You will get a device that receives the next Android version update in it's Go edition. As well as you won't be missing out on Security updates as well.
This is the main reason why Google is making tremendous efforts into this Android Oreo Go edition OS. Apparently, most OEMs don't support their lower spectrum of devices and leave them to rot on the same Android version forever. With smartphones explicitly made for this lite version of Android OS, you are now guaranteed that you will have a good experience onboard and won't be missing on any major security patches.